---
Search this site for any text! Try it now:
---

Late 70's Picnic: When?
Details on Facebook!


---
Thanks to Andrea Pappas, Scott Chan, Daphne Hunter and Sheryl Rachal we now have pictures to share from the 30th reunion!


---
If you have pictures, just send me an email and I will let you know how the easiest way to get them to me. Even if they are not digital photos we can make arrangements. Its not hard to email digital pictures.
---
We're easy to find, just Google Berkeley High 1977!
---
Please update your personal information in the BHS Registration page so that we will know how to contact you in the future.
Over 330 people have registered on this site!! Have you? Anyone from the Class of 1976, 1977, or 1978 is welcome!
---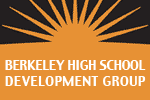 Do you want to help make Berkeley High School a better place?
Check out the Berkeley High Development Group!
---
You may want to "Bookmark" this location so that you can find us again. This site will remain active forever - or until people stop visiting - so keep the site alive by visiting regularly!
---
The Guestbook allows you to leave comments for other BHS people and to read comments from them. And since this is a virtual world, the guestbook will be here long after the reunion is over so we can use it at the 50 year reunion!

Looking for a specific comment from someone? Use the search engine at the top of this page!
---
Photos from the 20th, 25th and 30th Reunions

20th year reunion and picnic pictures!
---
Don't have an email address? Get a free email address from Yahoo! and move into the 21th century

---
If you have any comments, suggestions, or problems with this website or if you just want to say hello, you can email me using the following form:
Click here for Email Submission Form
---
Website Design and Graphics and Content Copyright (c) 1997-2008 James R.E. Reeves